Merced River Trip Details
Where to meet:
We'll meet you at Midpines County Park at 9:00 am on the morning of the trip. Midpines Park is located along Highway 140, 5.1 miles east of the Highway 140-Highway 49 junction in Mariposa and 27.1 miles west of the Arch Rock entrance station to Yosemite. Driving time from Yosemite Valley is about 45 minutes. From San Francisco it is about 3½ hours; from Los Angeles it is about 5½ hours.
How to get there:
Most trip members drive to the meeting place. Driving time from San Francisco is about 3½ hours, via 120 through the Park or via 140 through Merced. From Los Angeles it is about 5½ hours via 99 and 140. If you want to fly, the nearest airports are Modesto or Fresno (United Express) and you will then need to rent a car for the drive to El Portal (1½ hours).
What we provide:
Shuttle service to the river and back 
Lunch
Rafts, lifejackets, helmets, and other specialized rafting equipment
Wetsuits and splash jackets (when necessary)
Friendly and professional guides 
What you are responsible for:
Meals and lodging before and after your trip
Insulation layer (fleece jacket) to wear under splash jacket (see equipment list)
Guides gratuities (see below)
Itinerary
The Merced is an uncontrolled and unpredictable river, so our itinerary varies to take advantage of the best whitewater on any given day. We will meet in Midpines and take a van ride to the actual launching point. When the water is very high, we will all practice swimming at the launch site. We will get an early start on the river, and will raft between 12 and 15 miles, running numerous rapids including the famous "Ned's Gulch". During the day we will have time to enjoy a wonderful picnic lunch along the river and savor the scenery and spring wildflowers along the Merced. We will return to the meeting place around 4:00 PM.
Additional information:
Types of boats: On the Merced, we use two different types of rafts: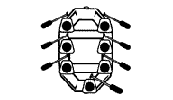 Paddle rafts are our primary means of transport on the Merced River. These small, dynamic rafts carry four to six paddlers plus a guide. The paddle team actively propels the raft down the river and through the rapids using canoe-type paddles and following the commands given by the guide.
We also use oar/paddle combination rafts, in which the boat is steered by a guide using oars, and a paddle team assists with paddles from the front of the raft, making for a highly maneuverable and powerful craft.
Travel Insurance: Because life is full of surprises, we suggest you consider purchasing supplemental travel insurance for your trip. Trip cancellation, evacuation, baggage loss and other coverages are available for between 8% and 15% of your trip cost. You can get more information through ASI Travel Insurance Services (please select American River Touring Association from the drop down menu).
Gratuities: We want you to feel like a guest in our home. But if you feel that your guides did an outstanding job, a post-trip gratuity is a flattering way to let them know. Tips should be based on your satisfaction, your financial means and your attitude about tipping. Tips typically range anywhere from 10 to 15 percent of the trip cost, (with the occasional recommended book or coveted hat thrown in). It is customary within ARTA to give the tip to the Lead Guide who will distribute it equally amongst all of the staff. And thank you very much.
More Information:
A pdf of these trip details (along with more information about what to expect on your trip) can be found and downloaded here.