For Right-Brained People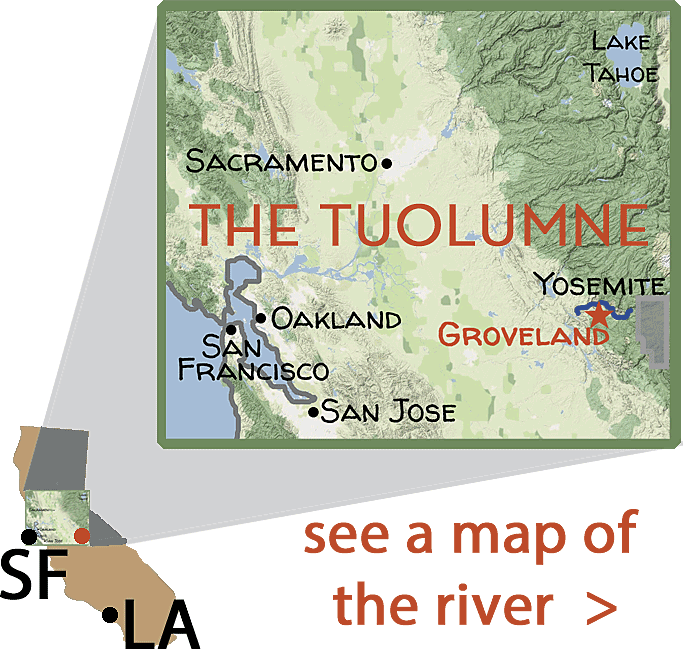 There's a lot of whitewater on the Tuolumne, a whole lot. Over 40 named rapids in 18 miles and probably another 40 that would have names if they were anywhere else. In the early part of the season the rapids are big and fast and cold; we wear wetsuits and paddle furiously. Later in the summer, the rapids are tricky and frequent and the water is a bit warmer (and the air is hot); we wear sunscreen and laugh a lot.
But there's more than whitewater on the Tuolumne, a lot more. There are side streams with idyllic swimming holes – dreamy places with cool water to swim in, pebble beaches to bask on, waterfalls to swim behind, and rocks to jump from; the kind of places you see in movies or read about in romantic novels. And we often camp near one, so an afternoon hike is often as memorable as the rapids. The three day trips are almost too relaxing, perfect for those who need a break from pavement and schedules; the two day trips are well-paced, perfect for those who want two full days and one spectacular night; the one day trips are a bit rushed, perfect for those who have places to go and things to do. And the river is just outside Yosemite National Park, perfect for everyone.
More about the Tuolumne River
The Tuolumne River is born high in the Sierra Nevada Mountains in Yosemite National Park. From 13,000 foot Mount Lyell Glacier to its confluence with the San Joaquin, the river flows through some of the most primitive and scenic country in California. The Miwok Indians inhabited the canyon for nearly 1,500 years and the river derives its name from a tribe who lived in the region. In the mid 1800's, the California Gold Rush brought a flood of miners into the canyon. As gold fever subsided, these rugged inhabitants moved on, leaving behind a decaying legacy of their short visit. A stone powerhouse, a stamp mill, abandoned cabins, and mine shafts still remain in the canyon as reminders of this period.
California's Best Whitewater Rafting Experience
Our 1, 2 and 3 day trips begin at Meral's Pool, a quiet spot in the river about 23 miles downstream from Hetch Hetchy Reservoir, and end at Ward's Ferry Bridge 18 miles later. For the first six miles, from Rock Garden to Clavey Falls, the rapids come almost non-stop as the river winds and drops through numerous granite boulderfields. Clavey Falls, at mile 6, is a whitewater event which you will never forget. Below Clavey, the rapids continue but are separated by short pools which allow us a welcome opportunity to enjoy the scenery and solitude of the canyon. Camping is along the river at pristine, wilderness sites, often near a beautiful sidestream.
All of your guides were AMAZING. They: saved my life a hundred times over, were friendly without being fake, knew "Curb Your Enthusiasm" episodes and could recount them in great detail, did comedy routines from that Disney movie "Madagascar", and took us to some of the most beautiful places on earth. I mean, lots of people can make good food and I suppose lots of people know how to guide rafts down whitewater with a bunch of amateurs, but really, those guides you employ are what make your trips special. They were just wonderful, real people.