Middle Fork American Trip Details
Where to meet:
We'll meet you at 8:00 am on the morning the trip begins in the parking lot behind Raley's in the Auburn Ravine Shopping Center (13384 Lincoln Way, Auburn, CA 95603). Take the Foresthill Exit off of Highway 80 in Auburn and bear east towards Foresthill. Turn left onto Lincoln Way and turn right into the Shopping Center. Coming north on Highway 49, go all the way to Highway 80 and head east to the Foresthill exit.
How to get there:
Most trip members arrive by car and vehicles will be left in the parking lot for the duration of the trip. Driving time from Sacramento is about 1 hour, from San Francisco about 2 1/2 hours and from Los Angeles about 8 hours.
If you are flying, Sacramento is the nearest airport and cars can be rented for the drive to Auburn. Due to potential delays, we do not recommend flying out of Sacramento before 11:00 pm the night the trip concludes.
What we provide:
Shuttle service to the river and back 
Lunch
Rafts, lifejackets, helmets, and other specialized rafting equipment
Friendly and professional guides 
What you are responsible for:
Meals and lodging before and after your trip
Personal clothing and other miscellaneous items (see equipment list)
Guides gratuities (see below)
Additional information:
Types of boats: On the Middle Fork of the American everyone will be in a paddle raft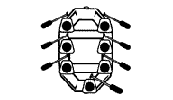 Paddle rafts are our sole means of transport on the Middle Fork. These small, dynamic rafts carry four to six paddlers plus a guide. The paddle team actively propels the raft down the river and through the rapids using canoe-type paddles and following the commands given by the guide.
Travel Insurance: Because life is full of surprises, we suggest you consider purchasing supplemental travel insurance for your trip. Trip cancellation, evacuation, baggage loss and other coverages are available for between 8% and 15% of your trip cost. You can get more information through ASI Travel Insurance Services (please select American River Touring Association from the drop down menu).
Gratuities: If you truly enjoy your trip, tipping is a great way to show your appreciation. Tipping is optional and personal, but since a lot of people ask, a customary amount is between 10 and 15 percent of the trip cost. Tips can be given to the Lead Guide who will share them with the entire crew. And the entire crew will appreciate them and put them to good use. (And thank you.)
More Information:
A pdf of these trip details (along with more information about what to expect on your trip) can be found and downloaded here.