The fast lane to commercial guiding
General description:
Can you say "intense"? ARTA's California Pro Guide Training is 10 days of whitewater, each one just a bit more challenging than the one before, keeping you just a little on edge and on your toes. We'll start out on the South Fork of the American where the Class III rapids will give us a lively warm-up, then we're off to the Middle Fork of the American for Class IV rapids, tunnels and portages, then down to the Wild and Scenic Tuolumne for lots of Class IV+ rapids, heavy gear boats, and advanced skills. Phew! Don't come expecting to rest!
This course offers highly personalized instruction (at least 1 instructor for every 4 students) in all aspects of commercial guiding. You will row boats, paddle boats, flip boats, re-flip boats, load boats and patch boats. You will swim, scout, improvise, lead, follow, carry, cook and tie knots. You'll tell stories, hear stories, and, if you're anything like past students, you'll be the stars of stories for years to come.
While the emphasis of the California school will be on rowing and paddling in low-volume, high-gradient, technical rivers, all aspects of commercial guiding will be covered, including training in river rescue, equipment maintenance, risk management, and emergency procedures as well as on-shore training in cooking, sanitation, and logistics. There will also be managed scenarios where your skills, judgment and responses will be assessed and reviewed, as well as team events, games, skills challenges and other fun activities to help hone your guiding and leadership skills. The rapids and the student responsibilities will increase in difficulty as the school progresses, making every day a challenge, an adventure and loads of fun.
The goal of the school is for every student to be a safe, conscientous, environmentally-responsible river user. We want you to be comfortable and capable of taking your own raft down Class III rivers with a good sense of the things that can go wrong, the proficiency to avoid them and the skills to deal with them if they aren't avoided.
We hope you can join us.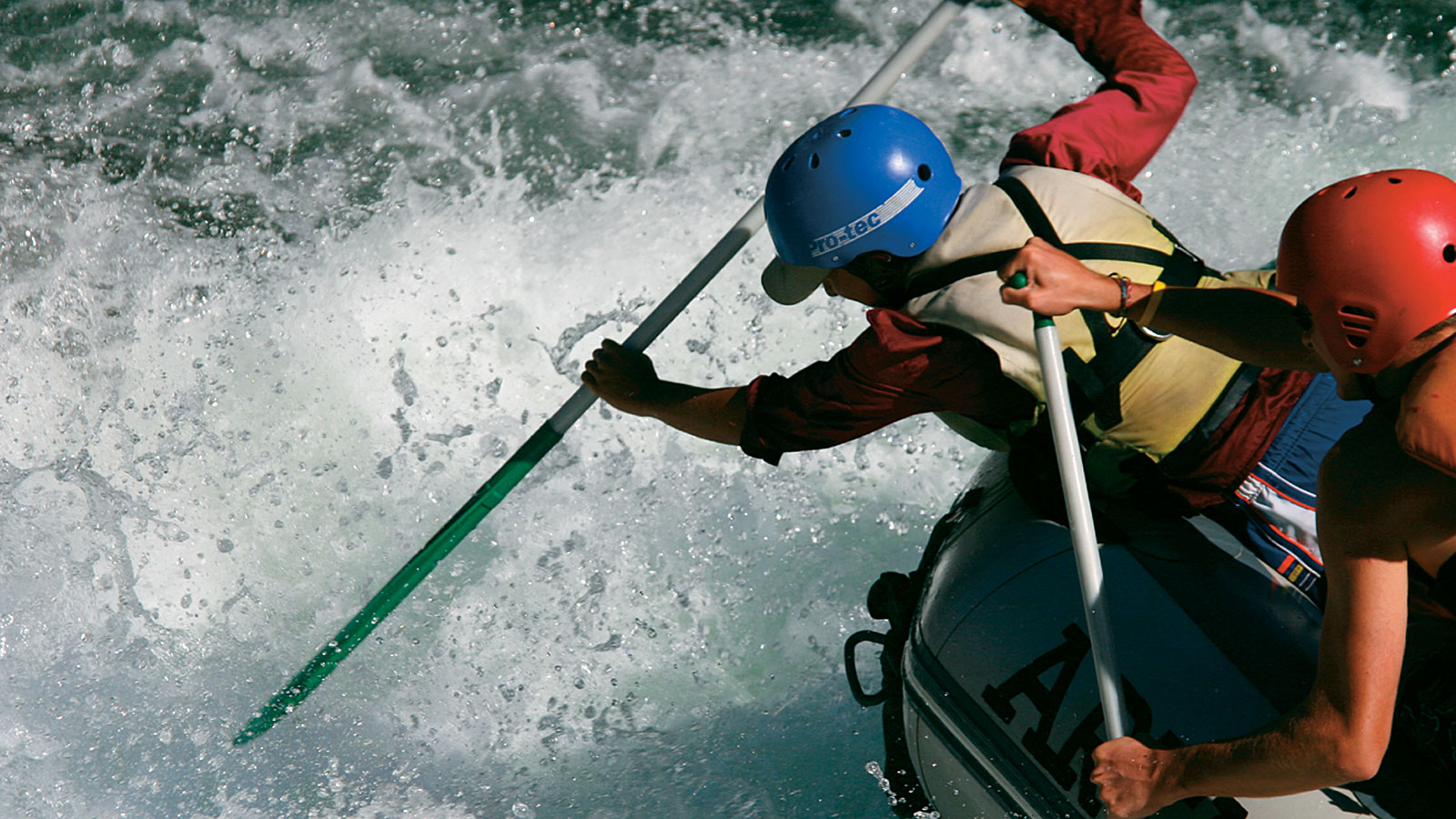 Description of rivers:
The 10-day California Professional Guide Training Course will take place on the South and Middle Forks of the American and the Tuolumne rivers in the central California foothills. The South Fork is California's most popular rafting river and offers a great assortment of fun, tricky rapids and a bunch of helpful, instructional eddies and currents; perfect for learning the basics. The Middle Fork is another story, offering some wild, one-of-a-kind whitewater spectacles (tunnels, portages, and waterfalls), perfect for learning how to deal with the unexpected. The school will conclude on the Tuolumne, California's premier river offering solid Class IV rapids in a remote setting and giving us the opportunity to test all of our new skills. We will have fully-loaded oar rafts and be self-sufficient for a three day wilderness trip, giving us a good sense of commercial loads and challenges. The stretches of river that we will run are designed to increase in difficulty as your skill level increases and may change due to flows or safety concerns.
Proposed Itinerary (subject to change due to flows):
Evening before the trip: We will have a brief orientation meeting (after dinner) at Camp Lotus where we will go over school logistics and details and make sure everyone has the right equipment and expectations.
Days 1 – 6: The first six days of the school will be spent rafting various stretches of the South and Middle Forks of the American and base-camping out of Camp Lotus. Depending on dam releases and skill levels we will raft 10 – 20 miles each day, concentrating on paddle techniques and basic paddle captaining. The days will be long and challenging but the convenience of a base camp will give us the flexibility to find the appropriate stretch each day. Being able to run the same rapids more than once will also give us a great opportunity to correct mistakes and measure improvement.
Day 7: Our transition day will give us a chance to work on some off-river skills before driving down to Groveland to prepare for our Tuolumne trip. We'll use this day to work on some rescue and repair skills as well to cover some of the behind-the-scenes parts of guiding (buying food, packing coolers, and loading gear).
Days 8 – 10: We will spend the last three days of the school on the spectacular Wild and Scenic Tuolumne River enjoying 18 miles of legendary Class IV and IV+ rapids, world-class wilderness, classic riverside campsites, and unforgettable side streams. We'll get familiar with fully-loaded gear rafts and learn about extended wilderness trips and backcountry camping and cooking. The trip will conclude late in the day in Groveland.
Is this course for you?
This course is designed for active, enthusiastic and dynamic individuals who want a challenging, action-packed adventure. You don't need to be a world-class athlete but couch potatoes should definitely stay home. If you are the type of person who is first to get in line to wash dishes and last in line to get out of the surf, the course is for you. Some students come to the school with a lifetime of camping and rafting under their belts, others have never been in a boat before; all have succeeded (with no correlation). A positive attitude and solid work ethic are the most important things you can bring to the school.
After the school:
We are looking for interesting, hard-working people to work for us as guides and this course is a primary source. Most students will be given the opportunity to join ARTA as an Assistant Guide (unpaid position), to further their training and prepare for a guiding career.
More information

:

The full details (where to meet, what to bring, etc.) are here. If there are any questions we haven't answered, send us an e-mail arta@arta.org or give us a call (209-962-7873). We love to talk about our trips, so don't be shy!
It is rare to do something that you look forward to for a year and have it exceed your expectations. But it did!