Middle-Main Combination Salmon River Trip Details
Where and when to meet:
We'll meet you at 8:00 pm the evening before the trip begins at the River 1 store in Stanley, Idaho (208/774-2270). Stanley is a small town and River 1 is 100 yards north of the Mountain Village Lodge and the junction of Highways 21 and 75. At the pre-trip meeting we will give you your waterproof bags, arrange shuttles, go over equipment and packing procedures and answer any last minute questions.
How to get there:
Your trip will begin in Stanley and end in McCall. Boise is the most convenient airport with commercial airline service.
If you are flying into Boise, you can either rent a car, drive to Stanley and have your vehicle shuttled from Stanley to McCall during the trip (see car shuttle, below) or you can arrange for air taxi service from Boise to Stanley and from McCall back to Boise (see air taxi flights, below). 
If you are driving directly to Stanley, you can either have your vehicle shuttled to McCall (see car shuttle, below) or you can arrange an air taxi flight from McCall back to Stanley after your trip (see air taxi flights, below). Conversely, if it is easier for you to drive to McCall, you can do this in reverse.
AIR TAXI FLIGHTS: You will need to arrange a flight from Boise to Stanley for the day before your trip (we recommend departing Boise for Stanley no later than 5:00 pm) and from McCall to Boise after your trip. Due to potential delays we recommend that you DO NOT plan on flying out of Boise the evening the trip ends, but rather that you spend the night in McCall and fly to Boise in time for your flight the following morning, (after 10:00 am departure from Boise is best). McCall is a small, resort community with a lot of attractions and the weather is generally more flyer-friendly earlier in the day. The round trip flight package costs about $300 per person; contact Gem Air(208/756-7382) to make these arrangements.
CAR SHUTTLE: You will need to drive to Stanley and arrange an independent car shuttle through River Shuttles (208/756-4188). You can arrange the shuttle in advance or you can fill out a form at the pre-trip meeting. Your car will be left at the Mountain Village Lodge in Stanley and shuttled to the airport in McCall during the trip. The cost of the shuttle is about $250 per vehicle, plus a full tank of gas.
Where to Stay:
Lodging in Stanley is limited; please make reservations well in advance. Lodging before the trip is good at the Mountain Village Lodge, (208/774-3661) which is a short walk from River 1. The Lodge fills up quickly and we advise that you make reservations well in advance. Other lodging includes the Sawtooth Hotel and the High Country Inn. If you want to extend your stay in the Stanley area, check out Redfish Lake Lodge and Idaho Rocky Mountain Ranch both of which are about 10 miles south of Stanley and offer a host of outdoor activities.  After the trip lodging is available in McCall at the Best Western McCall Lodge or Hotel McCall (good downtown location). All accommodations should be reserved well in advance of the trip and are not included in the trip fee. 
What we provide:
Round trip ground transportation from Stanley to the river before the trip and from the river to McCall after the trip.
All meals from lunch on the first day through lunch on the last day.
All taxes and government access fees.
Waterproof bags, lifejackets, and other specialized river touring equipment for the trip.
Friendly, entertaining and professional guide service.
What you are responsible for:
Meals and lodging before and after your trip.
Personal clothing and other miscellaneous items (see equipment list).
Sleeping bags and tents (these items can be rented from ARTA – see equipment list).
Soda, wine, alcoholic beverages (see below).
Guides gratuities (see below).
6 day Itinerary:
Early in the season (May 28, June 6 and June 15) we can run the entire 185 miles in 6 days!
Day 1: We will meet in Stanley early in the morning and be transported either to the launch site at Boundary Creek, (2 hours), or to the airport in Stanley for the 30 minute flight to Indian Creek (at extreme high water). After a thorough safety and orientation briefing, we will launch around noon. The upper river is very swift and we will tackle many challenging rapids right away. By the time we reach camp in the evening, you will be very tired.
Days 2 – 5: We will float an average of 30 – 40 miles, (5 – 6 hours), each day, stopping for a picnic lunch and perhaps to take a short hike to explore an interesting historical site or visit a hot springs. Major rapids on the Middle Fork include Pistol Creek, Marble, Tappan Falls, Cliffside, Rubber and Hancock. At some point, depending on our progress, we will exit the Middle Fork canyon and continue downstream on the Main Salmon. The Main Salmon flow is often three times as great as the Middle Fork and we will feel small. Major rapids on the Main include Split Rock, Big Mallard and Whiplash.
Day 6: After 185 miles and 3,700 feet in elevation drop, our trip will conclude at either Carey Creek or Spring Bar upstream from Riggins on the Main Salmon. We will have lunch, de-rig the rafts and make the two-hour drive to the airport in McCall.
12 day Itinerary:
Most of the summer it will take 12 days to cover the 185 miles
Day 1: We will meet you in Stanley early in the morning and transport you either to the launch site at Boundary Creek, (2 hours, May – mid-July trips), or to the airport in Stanley for the 30 minute flight to Indian Creek (August and September trips). After a short safety and orientation briefing, we will launch around noon. 
Days 2 – 5: We will float an average of 15 – 18 miles, (5 – 6 hours), each day, stopping for a picnic lunch and perhaps to take a short hike or explore an historical site. Camp will be made in the late afternoon with early evening available for hiking, fishing, or relaxing. Dinner is usually served late in the day. 
Day 6: An early morning prepares us for some of the Middle Fork's biggest rapids as we finish the Impassible Canyon and float on to the Main Salmon. After getting envious hugs from the departing Middle Fork guests, you'll float a bit further downriver to the newly renovated Salmon River Lodge where you will enjoy a shower and a great meal overlooking the river before heading to bed (in a bed!). Accommodations, dinner and breakfast are included in the trip price.
Day 7: The newly arriving Main Salmon guests will meet us across the river from the Lodge at the Corn Creek launch site and we'll head downriver. 
Days 8 – 11: More time on the river at a slightly slower pace, (10 – 12 miles per day), with ample time to explore the many interesting historical sites of the Main Salmon canyon. 
Day 12: Our re-entry into civilization includes a half day of rafting to our take-out point at Carey Creek, lunch and de-rigging, and a 2 hour drive to the airport in McCall.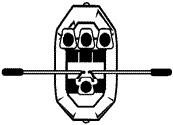 Oar rafts are 18 feet long, carry all of the overnight gear and up to 5 guests. They are rowed by a guide using oars attached to a metal frame. You ride in the front, hang on through the rapids and relax in the calm stretches.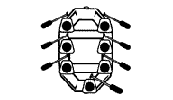 Paddle rafts are 14 feet long and carry between 4 and 6 paddlers who actively paddle through the rapids and down the river. Everyone has a paddle, sits on the outer tube of the raft and follows the commands of the paddle guide who sits in the rear.
Inflatable kayaks are 10 – 12 feet long and are paddled by 1 or 2 people using double-bladed paddles. They are fairly stable, require no previous experience and allow you to feel the thrill of independently paddling the river.
We usually have oar and paddle rafts on the Middle Fork and then if the conditions allow (usually after July 1), we'll add inflatable kayaks for the Main Salmon portion. Please note that we do not guarantee space in paddle rafts or inflatable kayaks. If there are more people who wish to ride in these boats than there are spaces, we will rotate so that everyone gets a chance to participate.
Meals and drinks: Our meals are well-balanced and consist of fresh, high-quality meats, fruits, vegetables, and breads. Our guides double as camp chefs and the menu includes a wide variety of dishes. Lunches are served riverside and vary from deli spreads to salads to wraps. Dinners and breakfasts are hearty and healthy and often include a tasty Dutch Oven baked treat. If you have any specific dietary requirements or are celebrating a special event during the trip, please let us know in advance. If you would like soda, beer, wine, or liquor with your dinner, please bring your own, (beer and soda in cans; wine in boxes or bags. Hard liquor in glass bottles is fine).
Camping: Camping will be at beautiful riverside beaches or flat benches along the river with spectacular views of the canyon. Our guides will set up a central area with chairs, a snack and beverage area, and a complete kitchen. You will pick out a spot nearby to pitch your tent or lay out your sleeping bag (our guides are happy to help). Camp activities vary from hiking and exploring the area, to relaxing along the river with a good book, to playing "Koob" or other river games. If you enjoy helping out in camp, you are welcome to pitch in as much as you want. A portable toilet will be set up away from camp. "The Groover", a sturdy metal box with a comfortable toilet seat and minimal odor, and a hand-wash station will be set up in an isolated (and usually beautiful) location; going to the bathroom in the wilderness is surprisingly pleasant.
Weather: The weather in the mountains of Idaho is difficult to predict; we have encountered snowstorms in August and heatwaves in May, so please read the equipment list and come well prepared for a variety of conditions. Rain, usually in the form of spectacular, afternoon thunderstorms, is common; good rain gear and a reliable tent are strongly advised. Generally, summer temperatures range between 65 to 75 degrees on the upper reaches of the river and up to 90 degrees in the lower canyon. Nighttime temperatures can dip into the 30's, particularly in June. Brief, spectacular thunderstorms are fairly common. The water temperature of the Middle Fork is about 50 degrees early in the season and 60 degrees later on; the Main Salmon is generally 10 degrees warmer.
Wildlife: We will be traveling through the heart of the Frank Church River of No Return Wilderness and visiting the home of a variety of wild animals. On both rivers it is common to see otters, deer, and bighorn sheep as well as osprey, eagles, and other birds. Occasionally we'll see elk and bears but they are generally shy and stay in the higher elevations during the summer.
Fishing: The fishing along the Middle Fork is excellent, with an abundance of 12 – 16 inch cutthroat trout. This is a "catch and release" river, so only single, barbless hooks are allowed, and all fish must be released alive. Fishing is better after the water level drops in mid-July. Poles should be protected in sturdy cases and only a small amount of tackle is needed. Dry flies, (Caddis, Grasshoppers and Irresistibles), and small spinners, (Mepps, Panther Martins) work well. You do not need waders or nets. If you want to fish you must have a valid Idaho State Fishing License. Fishing gear, licenses, and good advice are available from the Stanley Fly Shop in Stanley, 208-721-7151, which is open 7 days a week. You can find more information about fishing here.
Local Attractions: Within a day's drive of Stanley are Glacier, Yellowstone, and Grand Teton National Parks, as well as Sun Valley resort and numerous western guest ranches. McCall is a bustling resort town on a lake and is a fun place to extend your trip by day or two.
Suggested Reading: The Middle Fork, A Guide by Johnny Carrey and Cort Conley is an interesting book about the river and the history of the area. Long-time river guide and photographer Matt Leideker put together a very informative guide, The Middle Fork, a comprehensive guide, that is available through Northwest River Supplies. For the Main, River of No Return by Cort Conley gives a detailed, mile-by-mile description of the history of the river and canyon. The Last of the Mountain Men by Harold Peterson, Thousand Pieces of Gold by Ruthanne McCunn and Merciless Eden by Doug Tims are stories of some of the Main's more colorful characters and places. Idaho's Salmon River is a great map and guide and is available through Black Canyon Guides. River 1 usually has these and other books and maps about the area.
Travel Insurance: Because life is full of surprises, we suggest you consider purchasing supplemental travel insurance for your trip. Trip cancellation, evacuation, baggage loss and other coverages are available for between 4% and 11% of your trip cost. You can get more information at www.travelinsure.com; please enter ARTA's Participating Organization Number (215296) at the top of the enrollment form.
Gratuities: If you truly enjoy your trip, tipping is a great way to show your appreciation. Tipping is optional and personal, but since a lot of people ask, a customary amount is between 10 and 15 percent of the trip cost. Tips can be given to the Lead Guide who will share them with the entire crew. And the entire crew will appreciate them and put them to good use. (And thank you.)
More information:
A pdf of these trip details (along with more information about what to expect on your trip) can be found and downloaded here.