Where and when to meet:
We will meet you at 6:00 pm the evening before the trip begins on the lawn overlooking the Rogue River at Morrison's Lodge in Merlin, Oregon (800/826-1963). At the pre-trip meeting we will give you your waterproof bags, go over final trip logistics and answer any last minute questions. Cars will be left at Morrison's during the trip.
How to get there:
The trip will begin and end at Morrison's Lodge, 8500 Galice Rd. Merlin, OR 97532.
Driving: Morrison's is located on the Rogue River just west of Merlin, Oregon, about 60 miles north of the Oregon-California border; 6-7 hours from San Francisco, and 4 – 5 hours from Portland. To get to Morrison's, take Exit 61 off of I-5, head west on Galice Road (under the freeway if you are coming from the south) and continue straight 12 1/2 miles (through the small town of Merlin) to Morrison's Lodge (on the right).
Flying: Horizon/Alaska, and Skywest/United serve Medford, Oregon, about 30 miles southeast of Grants Pass. For transportation from the Medford airport to Morrison's, contact Galice Resort, (541/476-3818) or Affordable Shuttles, (866/484-4467). Due to potential delays, we do not recommend flying out of Medford the evening that the trip ends.
Where to stay:

Morrison's Rogue River Lodge (800/826-1963) is a wonderful place to stay before and after your trip. Right on the river, they offer a variety of lodging options from cozy rooms in the main lodge to private cabins overlooking the river to secluded cottages with kitchens on a quiet creek. The property is very relaxing and comfortable and the room rates are reasonable. Alternative accommodations are available 5 miles further down river at the Galice Resort (541/476-3818). Both locations serve meals on a deck overlooking the river. If you prefer gourmet meals and linen, you'll enjoy Morrison's; if you prefer hamburgers and picnic tables, you'll prefer Galice. Reservations should be made well in advance. There are also numerous motels 30 minutes from Morrison's in Grants Pass including the Holiday Inn Express (541/471-6144) or the Best Western Inn Grants Pass (541/476-1117). Reservations should be made well in advance.
Before you get to Morrison's
Morrison's Lodge and Galice Resort are isolated, self-contained establishments and once you are there, you won't want to leave. Both places carry a limited assortment of everything you might need for your trip, but you may prefer to purchase last minute items (snacks, drinks, batteries, etc.) or even eat in Grants Pass before you arrive, (The Haul in Grants Pass and Baldini's in Merlin are staff favorites). If your pre-trip accommodations have kitchen facilities, you can get groceries at Ray's Market near the freeway on Galice Road.
Itinerary
First Day: We will meet early in the morning at Morrison's and take a short van ride to the actual launching point on the river.  After a thorough safety briefing and trip orientation, we will launch in the morning and head downstream. The first day on the Rogue has some fun warm-up rapids as well as the legendary Rainie Falls (see below). Camping will be at a remote, wilderness site along the river.
Middle Days: A typical day on the Rogue starts with coffee and a hearty breakfast before we pack our bags and load on to the rafts. We will float an average of 8 – 12 miles, (5 hours), each day, stopping for a picnic lunch and perhaps to take a short hike or explore an historical site. There are rapids every day; the biggest, Blossom Bar, usually comes on the morning of day 3, (see below). Camp each day will be made in the late afternoon with early evening available for hiking, swimming or relaxing.
Last Day:  We usually arrive at Foster Bar (the take-out) around 2:00 on the last day and then take a van ride (2 hours) back to Morrison's; arrival time back at Morrison's should be between 4:00 and 5:00 on the last day.
A Special Note About Two Special Rapids
The Rogue River is primarily a Class III river with two notable exceptions: Rainie Falls and Blossom Bar. The risks that these two rapids present are unusual and significant and the rewards they offer are minimal. Under most conditions, we will have everyone take a short, scenic hike around the rapids while our guides take the empty rafts through the most dangerous sections.
What we provide:
Pre-trip meeting at Morrison's Lodge
Transportation from Morrison's to the river and return to Morrison's
All meals from lunch on the first day through lunch on the last day
All taxes and government access fees
Waterproof bags, lifejackets, and other specialized river touring equipment for the trip
Friendly, entertaining and professional guide service
What you are responsible for:
Additional Information:
Types of boats: On the Rogue River we offer three types of boats in which to ride: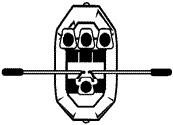 Oar rafts are 18 feet long, carry all of the overnight gear and up to 5 guests. They are rowed by a guide using oars attached to a metal frame. You ride in the front, hang on through the rapids and relax in the calm stretches.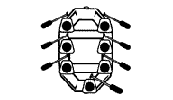 Paddle rafts are 14 feet long and carry between 4 and 6 paddlers who actively paddle through the rapids and down the river. Everyone has a paddle, sits on the outer tube of the raft and follows the commands of the paddle guide who sits in the rear.
Inflatable kayaks are 10 – 12 feet long and are paddled by 1 or 2 people using double-bladed paddles. They are fairly stable, require no previousexperience and allow you to feel the thrill of independently paddling the river.
Please note that we do not guarantee space in inflatable kayaks. We will bring a lot, but if there are more people who wish to ride in these boats than there are spaces, we will rotate so that everyone gets a chance to participate.
Meals and drinks: The meals we serve are well-balanced and consist of quality foods with fresh meats, fruits, and vegetables. Guides double as camp chefs and the menu includes a wide variety of dishes. Lunches consist of hand-foods and are served picnic-style at riverside stops. Dinners and breakfasts are prepared by our guides and often include tasty Dutch Oven baked treats. If you have special dietary requirements or are celebrating a special event during the trip, please let us know in advance. If you would like soda, beer, wine, or liquor with your dinner, please bring your own, (beer and soda in cans; wine in boxes or bags; hard liquor in glass bottles).
Camping: Overnight camping will be done at riverside beaches with spectacular views of the river and canyon. There is usually a central kitchen and campfire area and guests pick out spots in the surrounding area to pitch their tents or lay out their sleeping bags. We will provide portable toilet facilities. Dinner is served in the evening and the campfire is often kept burning into the night for music and story-telling.
Weather: Southern Oregon's summer weather is usually excellent with highs ranging from the 80's to the 90's and dropping into the 60's at night. Very little rain falls on the Rogue during the summer months, however, overcast and cool days do occur and you should be prepared with fleece tops and good rainshells. The water temperature warms up into the high 60's during the summer.
Local Attractions: The Oregon Shakespeare Festival in nearby Ashland is renowned for its Elizabethan Stagehouse and repertoire of Shakespearean drama. Also in the area are scenic Crater Lake National Park and the headwaters of the Rogue River, Oregon Caves National Monument and the historic town of Jacksonville which is home to the Britt Music Festival. Another popular addition to a Rogue trip is a tour of the spectacular Oregon coastline after the trip (see Alternate Ending below).
Alternative ending: Our take-out point is 35 miles inland from where the Rogue meets the Pacific Ocean at Gold Beach. If you are heading to the coast after your trip, you can have your vehicle shuttled from Morrison's Lodge to Foster Bar (the take-out point) for about $150 per vehicle. Arrangements should be made in advance.
Suggested Reading: Zane Grey spent time fishing along and writing about the Rogue River and his stories make for fun reading during the trip; Rogue River Feud is set on the stretch that we will float and is a classic example of Grey's style. River guide Matt Leidecker also wrote a great mile-by-mile guide: The Rogue River – A Comprehensive Guide from Prospect to Gold Beach which is available through Northwest River Supplies. The BLM has a decent river map, The Rogue River Float Guide, which is available at Morrison's prior to the trip.
Travel Insurance: Because life is full of surprises, we suggest you consider purchasing supplemental travel insurance for your trip. Trip cancellation, evacuation, baggage loss and other coverages are available for between 8% and 15% of your trip cost. You can get more information through ASI Travel Insurance Services (please select American River Touring Association from the drop down menu).
Gratuities: If you truly enjoy your trip, tipping is a great way to show your appreciation. Tipping is optional and personal, but since a lot of people ask, a customary amount is between 10 and 15 percent of the trip cost. Tips can be given to the Lead Guide who will share them with the entire crew. And the entire crew will appreciate them and put them to good use. (And thank you.)
More Information:
A pdf of these trip details (along with more information about what to expect on your trip) can be found and downloaded here.