Illinois River Trip Details
Where and when to meet:
We'll meet you at 8:00 pm on the evening before your trip begins  in the lobby of the Holiday Inn Express in Grants Pass, Oregon (105 NE Agness Ave. 800/838-7666). At the pre-trip meeting we will give you your waterproof bags, go over final trip logistics and answer any last minute questions. The following morning you will leave your vehicles at the Holiday Inn and we will transport you to the river (3 hours). At the conclusion of the trip we will return you to the Holiday Inn (5 hours).
How to get there:
The trip will begin and end  at the Holiday Inn Express in Grants Pass.
Driving: Grants Pass is located on Interstate 5 about 55 miles north of the Oregon-California border; 6-7 hours from San Francisco, and 12-14 hours from Los Angeles. To get to the Holiday Inn Express, take the South Grants Pass exit, (#55), and head west towards town on Grants Pass Parkway. Take the first right onto Agness Ave. and the motel will be on your right.
Flying: Horizon/Alaska, and Skywest/United serve Medford, Oregon, which is about 30 miles southeast of Grants Pass. For van transportation from the Medford airport to Grants Pass, contact Galice Resort, 541/476-3818. Due to potential delays, we do not recommend flying out of Medford the evening that the trip ends.
Where to Stay:
Overnight accommodations for both before and after the trip are good at either the Holiday Inn Express (800-838-7666 or 541-471-6144) or the Best Western Inn Grants Pass (800-553-7666 or 541-476-1117) which is right next door. Reservations should be made well in advance.
What we provide:
Transportation from the Holiday Inn in Grants Pass to the river and back
All meals from lunch on the first day through lunch on the last day
All taxes and government access fees
Waterproof bags, lifejackets, and other specialized equipment for the trip
Friendly, entertaining and professional guide service
What you are responsible for:
Meals and lodging before and after your trip
Personal clothing and other miscellaneous items (see equipment list)
Sleeping bags and tents (these items can be rented from ARTA – see equipment list)
Soda, wine, alcoholic beverages (see below)
Guides gratuities (see below)
Itinerary
Day 1: We will convene at the Holiday Inn (early) and then take a 1 – 2 hour van ride to our actual launching point at Miami Bar. After a thorough safety briefing and trip orientation, we will launch around noon and head into the Illinois Canyon. The first day on the Illinois has some fun and challenging rapids. Camping will be at a remote, wilderness site along the river.
Days 2 & 3: A typical day on the Illinois starts with coffee and a hearty breakfast before we pack our bags and load on to the rafts. We will float an average of 8- 10 miles, (4 hours), each day, stopping to scout rapids, eat lunch, and perhaps take a short hike or explore an historical site. There are rapids every day, but the biggest rapids are located in "the gorge" which we usually run on the morning of day 3. Water levels on the Illinois are fickle and our daily itinerary is often adjusted due to flows; stay loose.
Day 4: The last day on the Illinois has relatively smaller rapids as we float into the lower canyon. Typically we get to the take-out before lunch, de-rig and then have lunch at take-out or along the way during the scenic (but long) drive back to Grants Pass. The return shuttle route takes us west to the Pacific Ocean, then south along the coast to the Redwoods, then back east along the Smith River (where Bird Box was filmed) before arriving at Grants Pass in the early evening. The shuttle drive is widely considered the prettiest river trip shuttle in the United States.
Additional Information:
Being Prepared: The weather on the Illinois is notoriously inclement and you should come prepared for cold and rainy conditions. Do not skimp on the equipment list! Because the river is extremely cold, we will provide "Farmer-John" type wetsuits and splash jackets, but everyone should bring their own thick fleece top, (or two) as well as wool or fleece layers for their head, feet, and hands. Drysuits are a great option and can be rented from Pacific River Supply (510/223-3675) for about $100 for the week. In camp, you will want good rain gear, a rugged tent and a warm sleeping bag; we have tents and sleep kits available to rent; reserve rental gear in advance when you complete your on-line registration.
Types of boats:  Due to the difficulty of the Illinois River we primarily use oar-paddle combination rafts. Occasionally we will have guests ride in the oar-powered gear rafts, but everyone should come expecting to be active participants in the trip.
Oar-paddle combination rafts are 14 or 16 feet long and are configured so that two or four paddlers can assist a guide who rows the raft using oars. The precision of an oar raft and the power of a paddle raft makes this the ideal rig for the Illinois.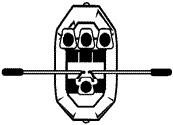 Oar rafts are 16 feet long, carry all of the overnight gear and sometimes one or two guests. They are rowed by a guide using oars attached to a metal frame. Paddlers ride in the front and assist the guide by paddling through the rapids. 
Meals and drinks: The meals we serve are well-balanced and consist of quality foods with fresh meats, fruits, and vegetables. Guides double as camp chefs and the menu includes a wide variety of dishes. Lunches consist of hand-foods and are served picnic-style at riverside stops. Dinners and breakfasts are prepared by our guides and often include tasty Dutch Oven baked treats. If you have special dietary requirements or are celebrating a special event during the trip, please let us know in advance. If you would like soda, beer, wine, or liquor with your dinner, please bring your own, (beer and soda in cans; wine in boxes or bags; hard liquor in glass bottles).
Camping: Camping will be at beautiful riverside beaches or flat benches along the river with spectacular views of the canyon. Our guides will set up a central area with chairs, a snack and beverage area, and a complete kitchen. You will pick out a spot nearby to pitch your tent or lay out your sleeping bag (our guides are happy to help). Camp activities vary from hiking and exploring the area, to relaxing along the river with a good book, to playing "Koob" or other river games. If you enjoy helping out in camp, you are welcome to pitch in as much as you want. A portable toilet will be set up away from camp. "The Groover", a sturdy metal box with a comfortable toilet seat and minimal odor, and a hand-wash station will be set up in an isolated (and usually beautiful) location; going to the bathroom in the wilderness is surprisingly pleasant.
Weather: Think rain! The Illinois is only runnable during the early spring when the weather is usually wet. It doesn't rain all the time, (it sometimes snows), but you should be prepared for drizzly overcast days. Highs are usually in the 60's with lows in the 40's. The water temperature is in the 40's.
Local Attractions: The Oregon Shakespeare Festival in nearby Ashland is renowned for its Elizabethan Stagehouse and repertoire of Shakespearean drama. Also in the area are scenic Crater Lake National Park and the headwaters of the Rogue River, Oregon Caves National Monument and the historic town of Jacksonville which is home to the Britt Music Festival. Another popular addition to an Illinois trip is a tour of the spectacular Oregon coastline after the trip (see Alternate Ending below).
Alternative Ending: Our take-out point is 35 miles inland from where the Illinois meets the Pacific Ocean at Gold Beach. If you don't want to return to Grants Pass after your trip, you can have your vehicle shuttled to the take-out point for about $250 per vehicle. Arrangements can be made at the pre-trip meeting (bringing a spare key will facilitate the process).
Travel Insurance: Because life is full of surprises, we suggest you consider purchasing supplemental travel insurance for your trip. Trip cancellation, evacuation, baggage loss and other coverages are available for between 8% and 15% of your trip cost. You can get more information through ASI Travel Insurance Services (please select American River Touring Association from the drop down menu).
Gratuities: If you truly enjoy your trip, tipping is a great way to show your appreciation. Tipping is optional and personal, but since a lot of people ask, a customary amount is between 10 and 15 percent of the trip cost. Tips can be given to the Lead Guide who will share them with the entire crew. And the entire crew will appreciate them and put them to good use. (And thank you.)
More Information:
A pdf of these trip details (along with more information about what to expect on your trip) can be found and downloaded here.