Green River/Lodore Canyon Trip Details
Where and when to meet:
We'll meet you at 7:30 pm the evening before your trip begins near the swimming pool at the  Dinosaur Inn and Suites (435/315-0123) in Vernal, Utah. We'll give you your waterproof bags, go over final trip logistics, and answer any last minute questions. The following morning we will re-convene at Split Mountain Boat Ramp in Dinosaur National Monument for the shuttle to the launch site. Your lead guide will have directions and times. The trip will conclude at Split Mountain around 3:00 p.m. on the last day.
How to get there:
Driving: Vernal is on State Highway 40, approximately 180 miles, (3 hours), east of Salt Lake City. The Dinosaur Inn is next to the museum in the heart of downtown. Directions to Split Mountain Boat Ramp, (30 minutes outside of town), will be given at the pre-trip meeting. There is a fee to enter the Park and vehicles will be left at the Boat Ramp for the duration of the trip.
Flying: You can fly into Salt Lake City and rent a car for the three-hour drive to Vernal or fly directly into Vernal through Denver on United/SkyWest. For transportation between the airport and your motel contact your motel or Vernal City Cab (435/414-1779). If you fly directly into Vernal and do not have a car for the drive to Split Mountain Boat Ramp, contact us so that we can help you arrange this transportation.
Where to Stay:
There are many lodging options in Vernal, most of them unremarkable. The Dinosaur Inn is the most convenient; nearby are  the Ledgestone Hotel and the Days Inn Vernal. Camping is available in Dinosaur National Monument, 30 minutes from Vernal; campsite reservations can be made through www.recreation.gov.
What we provide:
Transportation from Split Mountain Boat Ramp to the river 
All meals from lunch on the first day through lunch on the last day
All taxes and government access fees
Waterproof bags, lifejackets, and other specialized equipment for the trip
Friendly, entertaining and professional guide service.
What you are responsible for:
Transportation to Split Mountain Boat Ramp (30 minutes from Vernal). (If you aren't going to have a vehicle in Vernal let us know and we can help you).
Meals and lodging before and after your trip
Personal clothing and other miscellaneous items (see equipment list)
Sleeping bags and tents (these items can be rented from ARTA – see equipment list)
Soda, wine, alcoholic beverages (see below)
Guides gratuities (see below)
Itinerary
Day 1: We will re-convene at the Split Mountain Boat Ramp in Dinosaur National Monument (your Lead Guide will give you directions and timing at the pre-trip meeting) and then take a 3 hour bus ride into Colorado to our actual launching point at Gates of Lodore Campground in Dinosaur National Monument, (stopping along the way at a liquor store in Colorado to purchase drinks). After a thorough safety briefing and trip orientation, we will launch around noon and float a few miles to our first night's camp in the heart of the canyon.
Days 2 – 3 – 4: A typical day on the Green starts with coffee and a hearty breakfast before we pack our bags and load on to the rafts. We will float an average of 8 – 12 miles, (4 – 5 hours), each day, stopping for a picnic lunch and perhaps to take a short hike or explore an historical site. There are rapids every day and we'll stop to scout some of them. Camp will be made in the late afternoon with early evening available for hiking, swimming or relaxing.
Day 4 or 5:  An early morning prepares us for our longest day on the river as we float through Island and Rainbow Parks and then run the many rapids of Split Mountain Canyon. We usually arrive at Split Mountain Boat Ramp around 3:00 on the last day. Your cars will be at the parking lot adjacent to the boat ramp, so you'll be on your way from there.
Additional Information:
Types of boats: On the Green River we offer three types of boats in which to ride: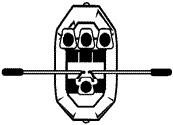 Oar rafts
are 18 feet long, carry all of the overnight gear and up to 5 guests. They are rowed by a guide using oars attached to a metal frame. Guests ride in the front, hang on through the rapids and relax in the calm stretches.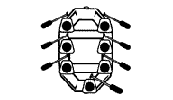 Paddle rafts are 14 feet long and carry 6 paddlers who actively paddle through the rapids and down the river. Everyone has a paddle, sits on the outer tube of the raft and follows the commands of the paddle guide who sits in the rear.
Inflatable kayaks are 10 – 12 feet long and are paddled by 1 or 2 people using double-bladed paddles. They are fairly stable, require no previous experience and allow you to feel the thrill of independently paddling the river.
Please note that we do not guarantee space in paddle rafts or inflatable kayaks. If there are more people who wish to ride in these boats than there are spaces, we will rotate so that everyone gets a chance to participate. Paddle rafts and inflatable kayaks are only available at appropriate flows and with sufficient interest.
Meals and drinks: The meals we serve are well-balanced and consist of quality foods with fresh meats, fruits, and vegetables. Guides double as camp chefs and the menu includes a wide variety of dishes. Lunches consist of hand-foods and are served picnic-style at riverside stops. Dinners and breakfasts are prepared by our guides and often include tasty Dutch Oven baked treats. If you have special dietary requirements or are celebrating a special event during the trip, please let us know in advance. If you would like soda, beer, wine, or liquor with your dinner, please bring your own, (beer and soda in cans; wine in boxes or bags; hard liquor in glass bottles. We will stop at a liquor store in Colorado on our way to the put-in on the first morning).
Camping: Camping will be at beautiful riverside beaches or flat benches along the river with spectacular views of the canyon. Our guides will set up a central area with chairs, a snack and beverage area, and a complete kitchen. You will pick out a spot nearby to pitch your tent or lay out your sleeping bag (our guides are happy to help). Camp activities vary from hiking and exploring the area, to relaxing along the river with a good book, to playing "Koob" or other river games. If you enjoy helping out in camp, you are welcome to pitch in as much as you want. A portable toilet will be set up away from camp. "The Groover", a sturdy metal box with a comfortable toilet seat and minimal odor, and a hand-wash station will be set up in an isolated (and usually beautiful) location; going to the bathroom in the wilderness is surprisingly pleasant.
Weather: The high desert country of the Green River enjoys daytime temperatures in the 80's and 90's, cooling off into the 60's at night, with occasional thunderstorms. There is ample shade at camps and lunch stops, however while we are on the rafts, the sun can be direct. Sunblock and lightweight cotton clothing (long-sleeved synthetic or cotton shirts and pants) will help you to avoid sunburn and a hat and bandana will help keep you cool. Although the Green River flows through arid country, there are occasional thunderstorms in the summer. We recommend that you bring good rain protection for both the day and night (rain shell and tent). The water temperature is chilly in June, but warms up pleasantly by mid July.
Wildlife: Bighorn sheep and mule deer inhabit the Green River canyon and occasionally we spot them along shore or while hiking. The canyon is also home to bobcats, beavers, otters, muskrat, badgers, skunks and ringtail cats. Birdlife is fairly abundant and we usually see hawks, falcons, geese and a wide assortment of smaller birds. Bring a small pair of binoculars and your camera.
Fishing: Due to the flow fluctuations and water clarity, fishing in the Green is not that good; however Jones Hole Creek, where we arrive on the third day, has very good fishing opportunities. A valid Utah license is required and can be obtained in Vernal prior to the trip. Light spinning or fly gear works best, (artificial lures and flies only); please bring the minimum and protect your rod in a sturdy case.
Local Attractions: Dinosaur National Monument contains one of the largest concentrations of Dinosaur remains in the world and the Visitors Center has a museum where you can touch real dinosaur bones. Also within a day's drive of Vernal are Canyonlands and Arches National Parks as well as Flaming Gorge Recreation Area.
Suggested Reading: The Green/Lodore trip takes place within Dinosaur National Monument and there are numerous books available about the area. Some of the more interesting ones are Buzz Belknap's Dinosaur River Guide, Vince Welch's The Doing of the Thing, and Explorations of the Colorado River by Major John Wesley Powell, (detailing his historic 1869 first exploration). These and other books about Dinosaur National Monument are available online or in Vernal at Bittercreek Books on West Main Street.
Travel Insurance: Because life is full of surprises, we suggest you consider purchasing supplemental travel insurance for your trip. Trip cancellation, evacuation, baggage loss and other coverages are available for between 8% and 15% of your trip cost. You can get more information through ASI Travel Insurance Services (please select American River Touring Association from the drop down menu).
Gratuities:  If you truly enjoy your trip, tipping is a great way to show your appreciation. Tipping is optional and personal, but since a lot of people ask, a customary amount is between 10 and 15 percent of the trip cost. Tips can be given to the Lead Guide who will share them with the entire crew. And the entire crew will appreciate them and put them to good use. (And thank you.)
More information:
A pdf of these trip details (along with more information about what to expect on your trip) can be found and downloaded here.