Green River/Lodore Canyon Trip Details
Where and when to meet:
We'll meet you at 8:00 pm the evening before your trip begins at the Dinosaur Inn and Suites (251 E. Main St. Vernal, UT 84078 – 435/315-0123). At the pre-trip meeting, we'll give you your waterproof bags, go over final trip logistics, and answer any last minute questions.
How to get there:
Driving: Vernal is on State Highway 40, approximately 180 miles, (3 hours), east of Salt Lake City. The Dinosaur Inn is in downtown Vernal. 
Flying: You can fly directly into Vernal via Denver on United Airlines or you can fly into Salt Lake City (Delta, Southwest, Alaska and many others) and rent a car for the 3 hour drive to Vernal. For transportation between the airport and your motel contact your motel or Vernal City Cab (435/414-1779).
What we provide:
Transportation from Split Mountain Boat Ramp to the river 
All meals from lunch on the first day through lunch on the last day
All taxes and government access fees
Waterproof bags, lifejackets, and other specialized equipment for the trip
Friendly, entertaining and professional guide service.
What you are responsible for:
Meals and lodging before and after your trip
Personal clothing and other miscellaneous items (see equipment list)
Sleeping bags and tents (these items can be rented from ARTA – see equipment list)
Soda, wine, alcoholic beverages (see below)
Guides gratuities (see below)
Itinerary
Day 1: We will re-convene at the Split Mountain Boat Ramp in Dinosaur National Monument (your Lead Guide will give you directions and timing at the pre-trip meeting) and then take a 3 hour bus ride into Colorado to our actual launching point at Gates of Lodore Campground in Dinosaur National Monument, (stopping along the way at a liquor store in Colorado to purchase drinks). After a thorough safety briefing and trip orientation, we will launch around noon and float a few miles to our first night's camp in the heart of the canyon.
Days 2 & 3: A typical day on the Green starts with coffee and a hearty breakfast before we pack our bags and load on to the rafts. We will float an average of 8 – 12 miles, (4 – 5 hours), each day, stopping for a picnic lunch and perhaps to take a short hike or explore an historical site. There are rapids every day and we'll stop to scout some of them. Camp will be made in the late afternoon with early evening available for hiking, swimming or relaxing.
Day 4:  An early morning prepares us for our longest day on the river as we float through Island and Rainbow Parks and then run the many rapids of Split Mountain Canyon. We usually arrive at Split Mountain Boat Ramp around 3:00 on the last day. Your cars will be at the parking lot adjacent to the boat ramp, so you'll be on your way from there.
Additional Information:
Types of boats: On the Green River we offer three types of boats in which to ride: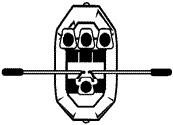 Oar rafts
are 18 feet long, carry all of the overnight gear and up to 5 guests. They are rowed by a guide using oars attached to a metal frame. Guests ride in the front, hang on through the rapids and relax in the calm stretches.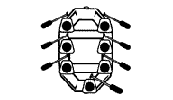 Paddle rafts are 14 feet long and carry 6 paddlers who actively paddle through the rapids and down the river. Everyone has a paddle, sits on the outer tube of the raft and follows the commands of the paddle guide who sits in the rear.
Inflatable kayaks are 10 – 12 feet long and are paddled by 1 or 2 people using double-bladed paddles. They are fairly stable, require no previous experience and allow you to feel the thrill of independently paddling the river.